Woman-Owned and Passion-Driven
Meet Mona Newbauer, the passionate owner and fearless leader of Sweet Mona's. Her love for people and obsession with sweets is evident in every aspect of her business. Together with her skilled team, Mona enjoys experimenting with chocolate and combining flavors to ensure every bite is a delightful experience for our customers.
Photograph by Sue Averett
Online or Instore
Discover our hidden oasis, surrounded by lush greenery and blooming flowers. Our vibrant shop, situated along the charming cobblestone path, invites you to unwind with a warm cup of coffee, delicious chocolates, and sweet treats.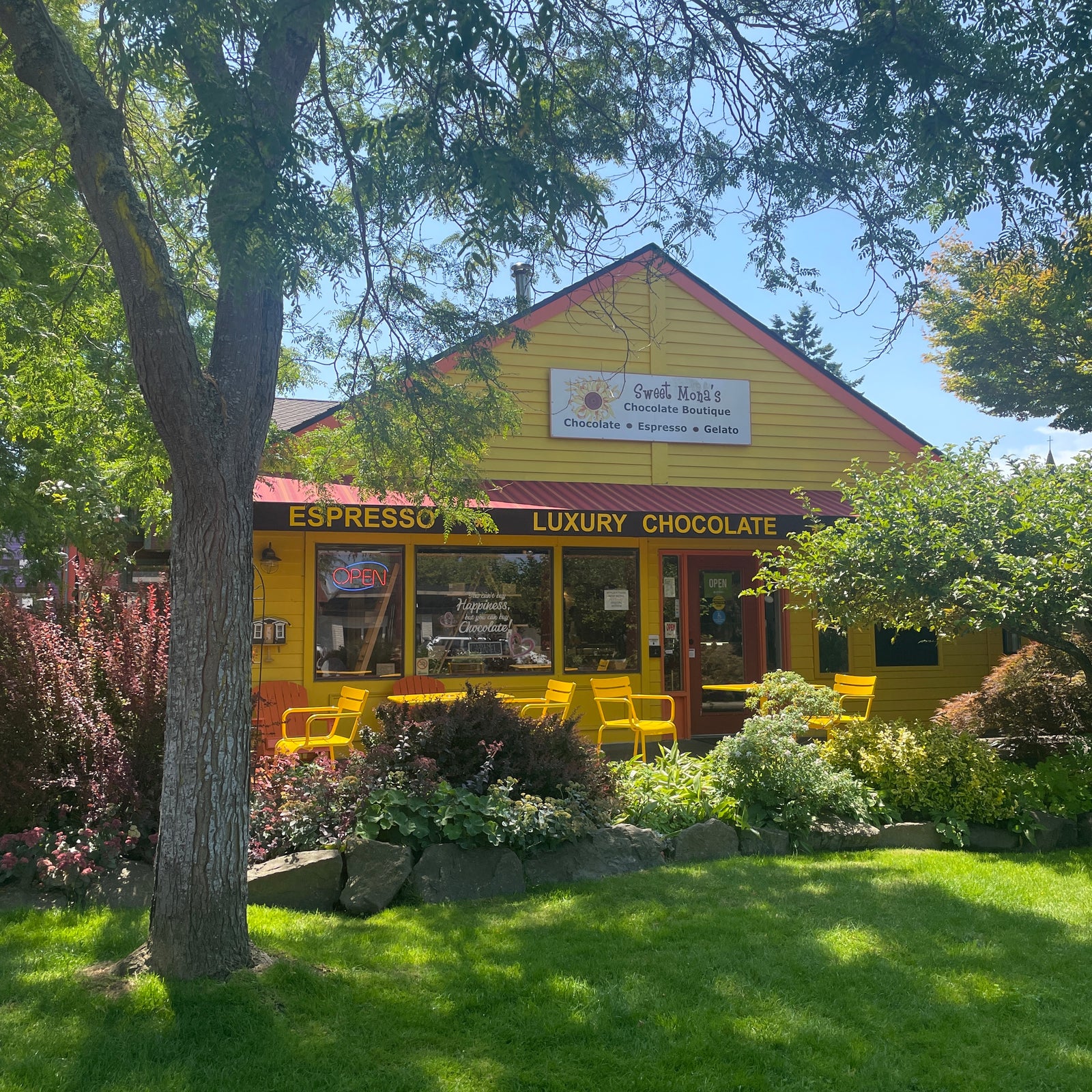 Gelato from Gelatiamo

We would love for you to join us in trying out our amazing selection of authentic Italian gelato, all crafted by Maria Coassin and her team from her shop in Seattle.

Desserts from Alaska Silk & Dragonfly Petite Cakes

Are you in search of delicious gluten-free desserts? Alaska Silk specializes in crafting delectable individual silk desserts using locally sourced gluten-free ingredients in their 100% gluten-free kitchen.

Espresso from Caffe' D'arte

Caffé D'arte is renowned for its expertise and high-quality espresso. They are among the few roasters that specialize in the "Post-Blending" technique, where they profile and roast each single-origin coffee separately to bring out its unique flavor.
Happiness from Linda

Your dark chocolate smores treat is out of this world! I was only going to take a bite or two and just savor it over the next couple of days. It's gone in one sitting!

Smore's Treats Coming Up

Jeannie says Superb

If you're looking for an exquisite treat, their dark chocolate sea salt caramels are a must-try. They truly are exceptional and the finest caramels I have ever tasted. They are superb!

Get a 5 piece box today

Jerry wants more

I am craving more delicious penuche fudge, it has wonderful maple flavor. I can't get enough of it.

I want some now